Welcome to my world…
A world of deep relaxation, gentle touches, pampering, exciting adventure, and self-discovery. Everyone is welcome here – women, men, even couples. You've found the right place, whatever the reason for your visit.
My name is Tereza, I am a tantric masseuse and an instructor of tantric courses. I have been practicing Tantra since 2015. To develop my skills I attend tantric courses and study tantric books. But above all, I gain experience from my own practice, which I consider to be essential.
In addition to tantra, I run a regeneration studio in Prague, where we focus on physical balance, psychological well-being, and replenishment of energy.
Effects of my tantric massage:
Men:
– soothes and induces a feeling of rest
– Relieves stress
– Charges with positive energy
– Releases physical and mental blocks
– Helps with erection problems
– Teaches you to control your own arousal,
– Helps to increase self-confidence
– Changes old sexual programs
Women:
– Soothes and induces a feeling of relaxation
– Charges with positive energy
– Helps you reveal the beauty of your own body
– Releases physical and mental blocks
– Increases sensitivity and sexual experience
– Helps with problems with reaching orgasm
– Reduces pain during intercourse
– Helps to increase self-confidence
Education:
1. 2015 Professional tantric massage course. Centrum Tantra masazi, Lucie Dvorakova
2. 2015 Taoist techniques of working with energy – Lucie Dvorakova
3. 2016 Educational course – Sport massage
4. 2018 Bondage workshop – Lucie Dvorakova
5. 2019 Educational course for practicing Access Bars
6. 2022 The basics of energetic medicine according to Donna Eden
Feedback:
"THAT was the greatest thing ever!! Never experienced anything like that. Please say thanks to Tery 🤗"
"Thank you for giving me a heavenly treatment! Nice to being taken care of which such a nice girl, good-looking and with a wonderful personality. Have a nice evening Hugs from Henning"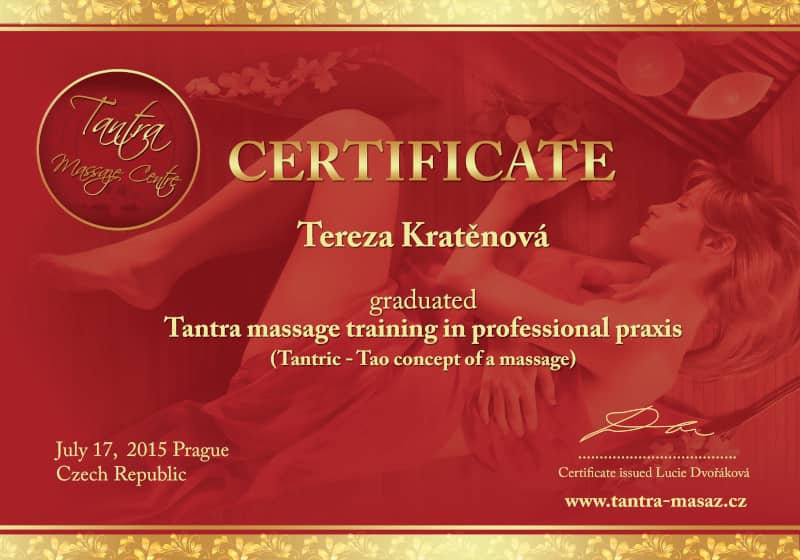 View The Schedule