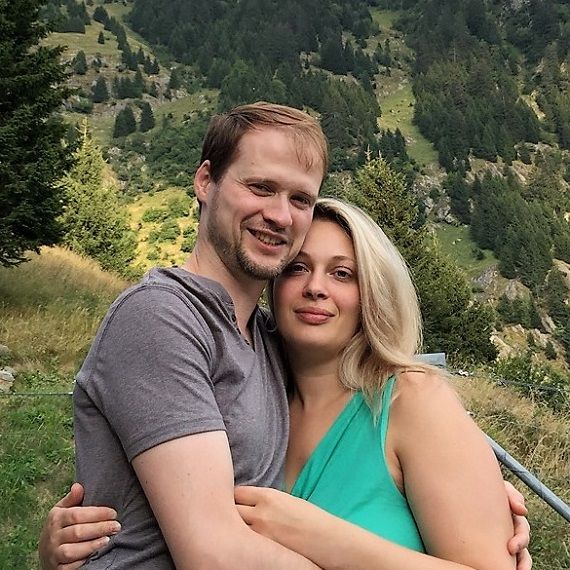 Who Are the Founders of the Sunrise Studio?
My name is Svitlana Textoris, and it was my idea to bring our professional activity to Oslo. It happened immediately after finishing the sexological bodywork training in 2014 in Prague when I was full of energy and inspiration. Conscious work with my body and mind resulted in significant changes in my life, and I wanted to share this experience with as many people as possible. Why Norway? I had the opportunity to work here briefly, and I was charmed with the kind, quiet strength of Norwegians 🙂 I have never met people who would respect the personal space of others so much. And I simply love it. My husband, Vladimir Textoris, was always dreaming about running a tantric massage studio and supported my enthusiasm about starting the new project.
About Svitlana
I was born in Ukraine where I spent most of my life. Then I got married to Vladimir and moved to his home, Czech Republic. At that time Vladimir had already attended a big amount of courses and training on alternative healing, tantric massages, conscious sexuality, and relationships. He gave me the first tantric massage that allowed me to meet myself and see what I had been suppressing for years. Since then my interest in body-mind connection and awakening potential for pleasure and joy was only growing. I learned and practiced tantric (holistic sensual) massages, then got certification in sexological bodywork and somatic sex education, tried out different psychotherapy modalities as a client to get to know myself better and heal my traumas. In 2018 I finished the professional training in BodyMind gestalt therapy. This educational program gave me the experience of a strong presence in my body, emotions, and mind. For example, grounding in my body sensations I could feel exactly what suppressed emotion was standing behind the chronic pain and what impulses the body gave to resolve this problem.
Now I try to expand my field of activity and focus not only on sexuality and genital area. I consider our system as integrity, whole, and complex, in which all aspects and parts are interconnected. Although I have learned some scientific approaches and therapeutic techniques (they are very helpful for the understanding of possibilities), I do not like to intellectualize processes and put labels with diagnoses on people. I also evaluated the useless impact of cliche, fixed ideas, dogmas, and the same techniques which are used as a panacea for different people with similar symptoms. Moreover, if I look back on my own healing process, which was long and full of obstacles, I realize that most of my malfunctions were caused by emotional traumas connected to relationships. I really tried hard to open up my body with tension release techniques, trauma therapy, and even BDSM but the most efficient cure was just complete honesty with myself, following my intuition + compassionate, loving support, and presence of my therapists.
My View on Tantric Massage
Coming back to the topic of tantric massages, I think it is like a big cake with many layers. You can see many different possibilities depending on what your therapist can give and what you are able to take. For some it is just a relaxing massage, for others, it is a deeply spiritual experience or healing. In the course of 7 years of practice, I saw thousands of different clients with different opinions and results. There is no guarantee that you will get exactly what you want, even if the massage therapist looks very promising. For a better outcome, I would recommend clarifying your real intentions and communicate openly with your massage therapist. Anyway, no matter why you want to try out tantric massage you will definitely receive an extraordinary experience. Very few people have the possibility to get so much attention from anybody in everyday life. Here you will get all our attention only for yourself.
Our Team
Most members of our team are our idealistic colleagues which we know and meet in person on courses and workshops. We collaborate with those who invest time and energy in education and improving their skills. Besides, we understand the importance of their personal qualities, longing to benefit people and communicational skills. Although the form of the tantric massage is almost the same, our team consists of people who came to work in our studio with different backgrounds. Some of them were concentrated on learning massage techniques from different massage schools, some have developed coaching skills. You can contact us with your question to find the massage therapist corresponding to your request or you can read their profiles and look at the calendar on our web.